Add Modular Refineries to Mexico's existing plants
McKeown has developed technology solutions to the national oil company of Mexico's need for additional crude oil processing. With the addition of modular controls and electronic data processing to the existing crude oil processing flow a skid mounted plant can provide additional petroleum products quickly. Seven such plants are currently being approved by PEMEX.
Development of LNG Terminal and 1500 MW Power Plants in Bangladesh
McKeown Development accepted the opportunity to develop a complete LNG import terminal and associated LNG fueled gas turbine power plants near Cox's Bazaar in Bangladesh.
Crude Oil Processing Facilities in Iraq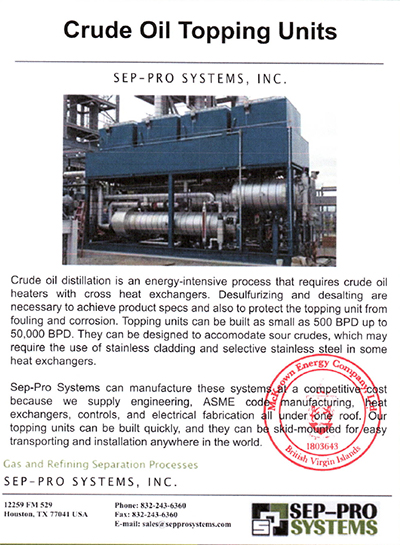 McKeown is well regarded within the Iraq Ministries of Electricity and Oil based upon past performance. In June 2018, we were selected by competitive bidding to design, construct, operate and maintain a 105,000 barrel per day crude oil topping plant to produce light Diesel oil to fuel the Ninawa Gas Turbine Power Plant. The topping plant will be designed and built by SepPro Systems Inc. of Houston, Texas in three 35,000 barrel per day modules. Please see www.sepprosystems.com for additional information.
1300 MW LNG CCPP - Payra Port, Bangladesh
McKeown is developing a 1300MW LNG CCPP for the new US$20 billion Port of Payra in the Patuakhali District on the southern coast of Bangladesh. Completed development, awaiting governmental approvals.
Large-Scale Reforestation & Renewable Energy
McKeown Development Co formed and is majority owner of United Power Generation Co., Ltd (UPG). UPG developed the world's largest renewable fuel electric power plant in Nakhon Ratchasima Province, Thailand, about 200 km northeast of Bangkok. The key to the project is a 250,000 acre plantation designed to sustainably produce more than 3 million tonnes of wood chips per year; these chips will be processed from fast growing trees grown on the plantation and provide 100% of the fuel required by a 300 MW circulating fluidized bed (CFB) power plant.
The project is CO2 neutral; it saves more than 1,100,000 tonnes of CO2 annually compared to a coal or gas-fired power plant. The plantation provides about 40,000 jobs to rural subsistence farmers and will substantially lift their living standards. The power plant will produce 50% of the total electricity consumed in the Province at a price that is completely unaffected by the international market for crude oil and derived products. All electricity produced will be sold to the Thai state-owned power company- EGAT- under 25 year, take-or-pay contracts.